biography
Bodybuilder and actor Reg Lewis was born in Niles, California, on January 23, 1936. He began bodybuilding at a young age, winning his first title at age 17. Lewis jump-started his film career with the assistance of actress Mae West who, in 1954, enlisted a gym-full of bodybuilders (including Lewis,
Mickey Hargitay
,
Gordon Mitchell
, and
Dan Vadis
) and took them and her act on a tour of nightclubs to various cities across the nation. West's male revue created a sensation; according to
Gordon Mitchell
, the show and the men were a big hit with the all-female audiences. Lewis often acted as an escort for Miss West, taking her to film premieres, nightclub openings, and other high-profile events throughout the 1950s, 1960s, and 1970s. And Lewis appears in West's last film, Sextette (1978; with Timothy Dalton).
Junior Mr. Olympics
Winner (1953) Lewis won this title at age 17.
Mr. Olympics
Winner (1956)
Mr. Pacific Coast
Winner (1956)
Mr. Physical Fitness
Winner (1956)
Mr. Universe
Professional Class Winner (1957)
Mr. USA-AAU
Second Overall (1957)
Mr. Hercules
chosen by Mae West (1960)
Mr. America
Winner (1963)
Olympia-IFBB
Third (1970)
Natural America
Masters Overall Winner (1982)
Mr. America
Over Forty Winner (1983)
Fire Monsters Against the Son of Hercules
(1962; with
Margaret Lee
). Making just a few films during his career, mostly in the 1960s, his best-known film is
Don't Make Waves
(1967), in which Lewis stars alongside Tony Curtis, Sharon Tate, and
Dave Draper
.
the films of reg lewis
Fire Monsters Against the Son of Hercules (1962)
Don't Make Waves (1967)
Sextette (1978)
reg lewis today
Currently living in Hollywood, Lewis is retired from acting.
reg lewis films available from movies unlimited
Fire Monsters Against The Son Of Hercules [DVD](1962) DVD
There'll be a hot time in old Macedonia tonight, as Maxus, "the muscular son of the muscular one," squares off against a gaggle of gargantuan, fire-breathing creatures to save the residents of a remote valley. Reg Lewis, Margaret Lee star. AKA: "Colossus of the Stone Age." 79 min. Standard; Soundtrack: English (dubbed). Plays All Regions.
Don't Make Waves (Remastered Edition) [DVD](1967) DVD
Way-out satire on Sixties lifestyles, Southern California-style, with Tony Curtis as Carlo Cofield, a conniving tourist who gets a job selling pools to Malibu hipsters thanks to an Italian beauty (Claudia Cardinale) who had run his car off the road. Soon, Carlo falls for her and a luscious skydiver (Sharon Tate), while trying to stay alive amidst houses sliding towards the ocean. With Robert Webber, Mort Sahl. 97 min. Widescreen (Enhanced); Soundtrack: English Dolby Digital mono.
Dangerous Babes: 12 Movie Collection [DVD] DVD
First, a porn director's perfect life is threatened by a police crackdown in "Blue Money" (1972); an assassination plot is the focus of the political thriller "Noon Sunday" (1975); "Sextette" (1978) stars Mae West as a legendary Hollywood sex symbol whose honeymoon to her sixth husband is constantly interrupted; Karen Black and Tony Lo Bianco must deal with their dissolving marriage in "Separate Ways" (1981); Laurene Landon stars in "Yellow Hair and the Fortress of Gold" (1984) as a warrior princess who must regain her tribe's sacred treasure, only to uncover a lost city; classmates wager to see who can bed a chaste high-school beauty in "The Virgin Queen of St. Francis High" (1987); a man tries to turn an old warehouse into a hot nightspot but encounters conflict with the mob, city, and his wife in "Night Club" (1989); and Troy Donahue stars in "Click: The Calendar Girl Killer" (1990), about a psycho killing models in the fashion industry. Three-disc set also includes "Weekend With The Babysitter," "The Sister-In-Law," "French Quarter," and "Hot Target." 18 hrs. total. Standard; Soundtrack: English Dolby Digital stereo.
filmography
Sextette (1978) with Mae West, Timothy Dalton, and Dom Deluise
Don't Make Waves (1967) with Tony Curtis, Sharon Tate, and Dave Draper
The Brass Bottle (1964) with Barbara Eden and Burl Ives
Fire Monsters Against the Son of Hercules (1962) with Margaret Lee and Myra Kent
links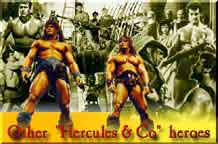 Go to the
Other Hercules Heroes
page, featuring Peter and David Paul, Paul Wynter, Jacques Sernas, and Richard Lloyd.
reg lewis film now showing
Watch Reg Lewis' 1962 film
Fire Monsters Against the Son of Hercules