biography
Born in Guadalupe on October 6, 1938 (some sources cite 1939 as his date of birth), Serge Nubret moved to Paris in 1950 and took up bodybuilding. Nubret has won the titles Mr. Europe (1966), Mr. Universe (1976), and Mr. World (1977). He also came in third place in the 1973 Mr. Olympia competition and came in second in 1975, bested only by
Arnold Schwarzenegger
. In addition, Nubret was once the Europe Director of IFBB. In the 1960s, Serge Nubret embarked on a film career, acting in two sword and sandal films and a few spy thrillers.
the films of serge nubret
Nubret, along with
Giuliano Gemma
, starred in the 1961 film
The Titans
. When the film was released by United Artists in the U.S. in 1963, the title was changed to
My Son, the Hero
; the American distributor dubbed this film to make it into a comedy, in a manner similar to Woody Allen's
What's Up, Tiger Lily?
(1966). Nubret's spy thrillers include
Thirteen Days to Die
(1965; with Horst Frank).
The Titans (1961)
Goliath and the Rebel Slave (1961)
later years
In March 2009, Serge Nubret suffered a stroke and lapsed into a coma. He was in excellent shape and still training at the time his illness occurred. He remained in a vegetative state for two years, until his death on April 19, 2011, at the age of 72. He was survived by his children.
serge nubret films available from movies unlimited
13 Days To Die [DVD](1963) DVD
When a prince in Thailand discovers that he's being blackmailed and has been targeted for murder, a group of super secret-agents are called on to investigate. It seems that a criminal organization is behind the threats and their leader will stop at nothing to carry out his scheme. Thomas Alder, Horst Frank and Peter Carsten star. AKA: "The Curse of the Black Ruby." Soundtrack: English (dubbed). Dubbed in English.
The Tyrant Of Lydia Against The Son Of Hercules [DVD](1963) DVD
Hercules' bulging baby boy journeys to the valley of the Hermus river and tattoos the evil king of Lydia with his bare fists. Muscleman Gordon Scott and Massimo Serato star in this mythic Italian adventure. Soundtrack: English (dubbed). Dubbed in English.
Pumping Iron: 25th Anniversary Special Edition [DVD](1977) DVD
An award-winning look at the world of professional bodybuilders, this insightful and entertaining documentary follows the preparations for and staging of a world championship competition, whose participants include Arnold Schwarzenegger (in his star-making appearance), Lou Ferrigno, Franco Columbu; co-directed by George Butler and Robert Fiore. 102 min. Standard; Soundtracks: English Dolby Digital 5.1, Dolby Digital Surround; Subtitles: English, Spanish, French; "making of" documentary; outtakes; interview; biography.
The Professional (Le Professionnel) [DVD](1981) DVD
Intense espionage yarn stars Jean-Paul Belmondo as a slick French spy assigned to assassinate an African dictator. After arriving in Africa, the political climate shifts and he's put in prison after his superiors fear he will carry out the assignment. After two years behind bars, Belmondo escapes and is eager to seek revenge. Michel Beaune and Robert Hossein also star in this expertly crafted thriller with a memorable Ennio Morricone score. 108 min. Widescreen (Enhanced); Soundtracks: French Dolby Digital stereo, English Dolby Digital stereo; Subtitles: English, Spanish; theatrical trailer. In French with English subtitles/Dubbed in English.
Sins [DVD](1985) DVD
The high glamour trappings of the Paris fashion world are the setting for this steamy mini-series drama of passion and revenge. The ever-stunning Joan Collins stars as a designer who survived the horrors of World War II and rose to the top of the industry...but at a great price. With Capucine, Timothy Dalton, James Farentino, Giancarlo Giannini, Lauren Hutton, and (in his final role) Gene Kelly. 5 1/2 hrs. on two discs. Standard; Soundtrack: English.
serge nubret dvds available from amazon.com
filmography
This listing is incomplete:
FILM
Le Professionnel (1981) with Jean-Paul Belmondo
Pumping Iron (1977) with Lou Ferrigno and Arnold Schwarzenegger
Cesar and Rosalie (1972) with Yves Montand and Romy Schneider
The Cop (1970) with Michel Bouquet, Michel Constantin, and Adolfo Celi
Seven Red Berets (aka Congo Hell and Seven Dirty Devils) (1968) with Ivan Rassimov, Kirk Morris, and Priscilla Drake
Adventures in Bangkok (1965)
Un gosse de la butte (1964)
13 Days to Die (aka Der Fluch des schwarzen Rubins) (1963) with Thomas Alder and Horst Frank
The Tyrant of Lydia Vs. the Son of Hercules (1963) with Gordon Scott and Ombretta Colli
My Son, the Hero (aka The Titans) (1961) with Giuliano Gemma

TELEVISION
Sins, a 1985 CBS mini-series
Petit dejeuner compris, a 1980 French mini-series
Salle N8, a 1967-1968 French television series of which 65 episodes were made

serge nubret links
Serge Nubret: The Official Website
History of Mr. Olympia: Serge Nubret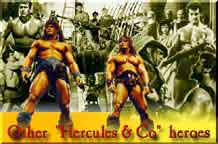 Go to the
Other Hercules Heroes
page, featuring Peter and David Paul, Paul Wynter, and Richard Lloyd.