Penny Edwards (1928-1998)

Pretty Penny Edwards began her film career at age 18 in the Shirley Temple film
That Hagen Girl
(1947; with Ronald Reagan). She made a few more screen appearances, usually in bit parts, until she signed with Republic in 1950. There, she often starred in low-budget westerns, such as
Sunset in the West
(1950) and
Utah Wagon Train
(1951). Edwards married in 1952 and called a halt to her film career to focus on raising a family. In 1957, she came out of retirement for three films, including
Ride a Violent Mile
, and she took guest roles in popular TV programs, such as
The Alaskans
and
Perry Mason
through the early 1960s. Edwards passed away at age 70 from lung cancer in 1998.

Visit the
Vince Edwards
page.

Visit the
Richard Egan
page.

Visit the
Anthony Eisley
page.
Jack Elam (1918-2003)

Character actor Jack Elam broke into films as an accountant; while doing the books for Hopalong Cassidy Productions, he also appeared in small roles in William Boyd's films. Soon, he left accounting behind and began working steadily as an actor, often in westerns such as
Ride Clear of Diablo
(1954; with
Audie Murphy
) and
The Night of the Grizzly
(1966; with
Clint Walker
). While known primarily for appearing in westerns, Elam acted in a variety of film genres, including the noirish
Kansas City Confidential
(1952; with
John Payne
), the actioner
Tarzan's Hidden Jungle
(1955; with
Gordon Scott
), and the juvenile delinquent flick
The Girl in Lovers Lane
(1959; with Brett Halsey). Elam retired from acting in the early 1990s and passed away in October 2003 at the age of 84.
Faye Emerson (1917-1983)

Beautiful Faye Emerson was a Warner Bros. contract player in the 1940s, where she acted in a number of B movies. But by the late 1940s, Emerson set her sights on television, where she served as an actress, hostess, and game show panelist. In the early 1960s, she cooled her career. Emerson passed away in 1983 from cancer at the age of 65. Among Emerson's husbands were Elliott Roosevelt (the son of Franklin and Eleanor Roosevelt), to whom she was married from 1942 through 1950, and Skitch Henderson, to whom she was married from 1950 through 1957.

Visit the
Marla English
page.

Visit the
John Ericson
page.
Dale Evans (1912-2001)

Born in Texas in 1912, Dale Evans suffered two early, unhappy marriages before beginning her career on radio in the early 1930s, after she moved to Kentucky and became a locally popular singer. Her radio career eventually escalated to the point where movie executives began to take notice of the pretty young singer, and in 1942 she was signed by 20th Century Fox. Her first film role was a small part in
Orchestra Wives
(1942). Fox dropped her option soon afterward, but Evans then signed with Republic Pictures in 1943. Republic immediately cast her in a string of westerns, in which Evans proved to be popular. In 1944, Evans first appeared with Roy Rogers in
The Yellow Rose of Texas
, and the on-screen chemistry between the two led Republic to cast them in a string of films. Rogers' wife passed away in 1946; Evans divorced her third husband in 1945, and soon Dale Evans and Roy Rogers became an off-screen item as well, marrying in 1947. The couple later starred in their TV series
The Roy Rogers Show
from 1951 through 1957. Afterward, with their growing business interests, they retired from the screen, making only occasional appearances in their later years. Rogers passed away in 1998, and Evans died in 2001 at the age of 88.

Native New Yorker Jason Evers was born in January 1922. Using his real name Herbert Evers, he started acting while in his teens and worked his way up to Broadway productions quickly in the early 1940s. Service during World War II interrupted Evers' career, which didn't gain further momentum until the early 1960s. A lucky break for Evers came in 1959 when he was cast in the low-budget horror flick
The Brain that Wouldn't Die
(1962; with
Virginia Leith
). Although the cult-classic film sat on the shelf for three years before its 1962 release, it's arguably the picture that Evers is best known for. For the remainder of his career, he acted in films on occasion, such as
Tarzan's Jungle Rebellion
(1967; with
Ron Ely
),
The Green Berets
(1968; with John Wayne and
Aldo Ray
), and
The Illustrated Man
(1969; with Rod Steiger). Additionally, Evers logged many hours on television, working on his own series and appearing as a guest star on many others, including
Star Trek
,
Mannix
, and
Mission: Impossible
, from the early 1960s through the late 1980s. He more or less retired from acting in the 1980s, with the exception of
Basket Case II
(1990; with Kevin Van Hentenryck). Sadly, Jason Evers passed away in March 2005 at the age of 83. The above photo is from
The Brain that Wouldn't Die
.
Jinx Falkenburg (1919-2003)

Exotic beauty Jinx Falkenburg was a top model before making a splash in films in the 1940s in such films as
Two Latins from Manhattan
(1941) and
The Gay Senorita
(1945). However, after just a few years of appearing in films, Falkenburg married and retired from the screen. She did, however, pop up on TV game shows from time to time in the 1950s and 1960s. Falkenburg passed away in August 2003 at the age of 84, just one month after her husband Tex McCrary died.
Margaret Field (1922-2011)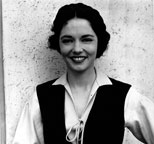 Beautiful Margaret Field acted in several films and in many television programs during her career, which extended from the late 1940s through the early 1970s. While she was best known as the mother of actress Sally Field and the one-time wife of actor
Jock Mahoney
, Field had a successful acting career in her own right. For several years, she toiled mostly in uncredited roles despite a contract with Paramount, until her first starring role in the science fiction flick
The Man From Planet X
(1951; with
Robert Clarke
. After eight years and two children with first husband Richard Field, the couple divorced in 1950. While shooting an episode of the early TV western
The Range Rider
, Field met series star
Jock Mahoney
, and they married shortly thereafter. Throughout their turbulent marriage, Field continued to act, mostly on television programs such as
Perry Mason
and
Twilight Zone
, but with a son and two daughters to raise, she began working less frequently in the mid 1960s. She passed away from lung cancer on November 7, 2011, at the age of 89. She was survived by two daughters, a son, and numerous grandchildren and great-grandchildren.

Visit the
Eric Fleming
page.

Visit the
Rhonda Fleming
page.

Visit the
Sean Flynn
page.

Visit the
Constance Ford
page.

Visit the
Sally Forrest
page.

Visit the
Anne Francis
page.
Coleman Francis (1919-1973)
Actor-director-producer Coleman Francis acted in and directed a handful of extremely low-budget films in the late 1950s through the late 1960s. On about the same level as the so-bad-they're-good films of
Edward D. Wood Jr.
, Francis's films were cheaply made and mostly terrible, yet loads of fun to watch. Of his three directorial efforts,
The Skydivers
(1963) is his best film, and all three---
The Beast of Yucca Flats
(1961; with
Tor Johnson
,
The Skydivers
, and
Red Zone Cuba
(1966)---aired on
Mystery Science Theater 3000
in the earlier days of the series. He also acted in other films directed by such B-movie legends as Russ Meyer and Ray Dennis Steckler, including
Motor Psycho
(1965) and
Lemon Grove Kids Meet the Monsters
(1965). Francis was found dead in the back of a car in Hollywood at the age of 53.
Arthur Franz (1920-2006)

Character actor Arthur Franz was born in New Jersey in February 1920. Developing a taste for acting as a teenager, his intended career was interrupted when he entered the armed services during World War II. Following the war, he resumed his acting career and had quite a bit of success on stage and in radio but did not act in his first film until the 1948 drama
Jungle Patrol
, in which he has a sizeable role. From there his film career took off, with Franz starring in numerous B movies and being cast in strong supporting roles in big-budget films. Today, he's best remembered in such B's as
Invaders from Mars
(1953; with Hillary Brooke),
Beyond a Reasonable Doubt
(1956; with
Dana Andrews
),
Back from the Dead
(1957; with
Peggie Castle
), and
The Atomic Submarine
(1959; with Brett Halsey and
Joi Lansing
). His work in television began in the early 1950s, where he was a frequent guest star on such popular programs as
Climax!
and
Perry Mason
. His television appearances increased in number in the 1960s, while his film output dwindled. After more than three decades as a busy character actor in films and television, he called it a day after the release of
That Championship Season
(1982; with Bruce Dern and Robert Mitchum). Married four times, his most famous wife was actress Doreen Lang, to whom he was married from 1957 until her death in 1999. Sadly, Arthur Franz passed away in June 2006 at the age of 86; he was survived by his fourth wife, two daughters, and a son. The above photo is from
Battle Taxi
(1955; with
Sterling Hayden
and
Marshall Thompson
).
Jane Frazee (1918-1985)

By the age of six, Jane Frazee was appearing in a vaudeville act with her sister. Eventually, the act had great success on radio, and this landed Frazee and her sister screen tests at Universal. Production executives immediately signed the talented girl but rejected her sister. Although Frazee was blessed with a good singing voice, acting talent, and beauty, she never really found the success in films she deserved. In the early 1940s, Frazee married silent screen actor Glenn Tryon, who was nearly 30 years her senior, but the married quickly dissolved. Frazee went into real estate in the 1950s and eventually left the film industry. After suffering a stroke, she passed away in 1985 at the age of 67.
Jonathan Frid (1924-2012)

Stage actor Jonathan Frid was born in Hamilton, Ontario, Canada, on December 2, 1924, where his father ran a successful construction business. Frid's desire to be an actor came to him as a young boy. Following a stint in the Royal Canadian Navy during World War II, he attended McMaster University in his native Hamilton, Ontario, graduating in 1948. He then attended London's Royal Academy of Dramatic Arts and afterward moved to the U.S. in the early 1950s. Wanting to teach, he earned an MFA in directing from Yale in 1957. He continued acting in stage plays both on and off Broadway into the 1960s. In 1967, after being cast as Barnabas Collins in the ABC gothic soap opera
Dark Shadows
, he gave up his plans to teach acting, enjoying a long and successful run as the complex, tormented vampire until the show's end in 1971. Wildly popular in the late 1960s, Frid was never entirely comfortable with his newfound fame and, following the show's demise, acted in just a small number of films, including the made-for-TV horror movie
The Devil's Daughter
(1973; with
Shelley Winters
) and horror film
Seizure
(1974; with
Martine Beswick
). Preferring the stage to film and television, Frid continued his stage career until his 1994 retirement, when he moved back to Ontario. He passed away on April 13, 2012 (Friday the 13th), from natural causes at the age of 87 and left no survivors. The above photo of Frid is from
Dark Shadows
.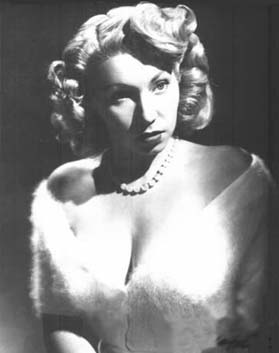 Visit the
Dolores Fuller
page.

Visit the
Lance Fuller
page.
Visit the
Annette Funicello
page.

Visit the
Zsa Zsa Gabor
page.

Visit the
John Gavin
page.

Visit the
Giuliano Gemma
page.

Visit the
Christopher George
page.

Visit the
Frances Gifford
page.
Leo Gorcey (1917-1969)

Born to Vaudevillian parents in 1917, Leo Gorcey practically grew up onstage. As a teenager, he was spotted in a play by a talent scout. When the play,
Dead End
, was made into a movie a couple of years later, Gorcey went to Hollywood where he worked steadily, mostly in film series such as
The Dead End Kids
,
The East Side Kids
, finishing his career in
The Bowery Boys
comedies. He more or less retired from the screen in the late 1950s, taking on cameo roles from time to time. Gorcey passed away in June 1969, just one day shy of his 52nd birthday.
Gloria Gordon (1937-1996)

Child actress Gloria Gordon made only a few films in the 1940s and 1950s before retiring from acting to marry and start a family. She passed away in 1996 at the age of 59.
Susan Gordon (1949-2011)

The daughter of cult film director Bert I. Gordon, Susan Gordon carved out a successful career as a child actress in the 1950s and 1960s. Acting in her father's films, as well as for other directors and on television, Gordon made an impact in
Attack of the Puppet People
(1958; with
John Agar
),
The Man in the Net
(1959; with
Alan Ladd
and
Carolyn Jones
), and
Tormented
(1960; with
Richard Carlson
). She also appeared as a guest star in such popular TV series as
The Twilight Zone
,
The Alfred Hitchcock Hour
, and
My Three Sons
. Her final film was the fun horror flick
Picture Mommy Dead
(1966; with Don Ameche,
Martha Hyer
, and
Zsa Zsa Gabor
). At the age of 18, Gordon gave up her acting career. Sadly, she passed away after a battle with cancer on December 11, 2011, at the age of 62. She was survived by her father and mother, husband, children, and grandchildren.
Tom Graeff (1929-1970)
While Tom Graeff's name isn't known to most film enthusiasts, most 'B' movie fans have seen his lone film, the 1959 flick
Teenagers From Outer Space
, which Graeff wrote, produced, directed, and even acted in. (Graeff used the moniker 'Tom Lockyear' in his lone screen appearance---his full name was Thomas Lockyear Graeff.) Shot in 1957, Graeff's science fiction epic starred his lover, David Love. David Love (real name: Charles Robert Kaltenthaler) was born in Los Angeles in 1934. The film was once featured on
Mystery Science Theater 3000
as episode #404. Graeff worked only one other film; he served as editor for the 1965 science fiction film
The Wizard of Mars
. He passed away in San Diego, California, at the age of 41 in 1970. Love is rumored to have passed away as well, but I cannot find further information.

Visit the
Farley Granger
page.
Bonita Granville (1923-1988)

Petite Bonita Granville was born into a showbiz family and quickly became a child star. After a few years in films, she was given her own series in the form of the low-budget
Nancy Drew
mysteries produced by Warner Bros. in the late 1930s. Into the 1940s as Granville grew into a young woman, Granville was not able to carry her child-star status into adulthood. By the late 1940s, Granville walked away from acting, concentrating instead on her marriage, children, and role as producer of the
Lassie
TV series. Sadly, Granville died in 1988 at the age of 65 after a battle with cancer.
Visit the
Peter Graves
page.

Visit the
Coleen Gray
page.

Visit the
Virginia Grey
page.
Anne Gwynne (1918-2003)

Gorgeous Anne Gwynne rivaled
Evelyn Ankers
as the leading scream queen in 1940s Universal Studios horror flicks such as
The Black Cat
(1941; with
Bela Lugosi
),
House of Frankenstein
(1944; with
John Carradine
), and
Weird Woman
(1944; with
Lon Chaney Jr.
and
Evelyn Ankers
). Starting out as a swimsuit model, Gwynne was quickly noticed and signed to a long-term contract by the studio. During World War II, her cheesecake photos made her a favorite pin-up of GI's. Following the war, Gwynne married, and along with the decline in monster films, her film career slid. She then went into the then-new television medium, acting alongside
John Howard
in the 1947 DuMont series
Public Prosecutor
. By the late 1950s, Gwynne had retired from the screen. She passed away in March 2003 at the age of 84.
Jean Hagen (1923-1977)

Pretty Jean Hagen's early career was quite successful; Hagen made a big splash in the film noir thriller
The Asphalt Jungle
(1950; with
Sterling Hayden
). She also starred in the MGM musical
Singin' in the Rain
(1952) as Lena LaMont, the hilariously talentless silent picture actress who is eventually upstaged by Debbie Reynolds. From there, she moved to TV as Danny Thomas' first wife in
Make Room for Daddy
(1953-1961). Unfortunately, Thomas and Hagen didn't see eye-to-eye, and she left the show in 1956. Hagen cooled her career afterward, taking time out to raise her son and daughter. On occasion she acted in such films as American International's
Panic in Year Zero
(1962; with
Ray Milland
and
Frankie Avalon
) and
Dead Ringer
(1964; with Bette Davis). She sporadically appeared in other films and TV shows until her death from throat cancer in 1977.
Ross Hagen (1938-2011)

Born in Williams, Arizona, actor Ross Hagen got his big break in the mid 1960s with guest roles on such television shows as
The Big Valley
and
The Fugitive
before moving into B movies. He tackled tough-guy roles in such drive-in cult favorites as
The Hellcats
(1968),
The Mini-Skirt Mob
(1968; with Jeremy Slate, Diane McBain, and Patty McCormack), and
The Devil's 8
(1969; with
Christopher George
,
Fabian
, and
Leslie Parrish
). When his mainstream acting career began to falter, Hagen moved into direct-to-video films in the 1980s, some of which he directed, including
B.O.R.N.
(1988; with P.J. Soles,
William Smith
, and Russ Tamblyn) and
Click: The Calendar Girl Killer
(1990; with
Troy Donahue
). He acted in a number of films for Fred Olen Ray as well, such as
Commando Squad
(1987; with
William Smith
, Sid Haig, and
Marie Windsor
) and
Invisible Dad
(1998; with Karen Black). Sadly, Ross Hagen passed away after a bout with prostate cancer on May 7, 2011, at the age of 72 and was survived by two children. He was preceded in death by his second wife, actress Claire Polan (1937-2003).
Alan Hale, Jr. (1918-1990)

Known to TV viewers as Skipper on
Gilligan's Island
(1964-1967), Hale made more than 100 films and dozens of TV appearances before his death from cancer at age 71. He acted in a number of films aired on
Mystery Science Theater 3000
, such as
The Giant Spider Invasion
(1975; with
Barbara Hale
),
Angels Revenge
(1979; with Susan Kiger), and
The Crawling Hand
(1963; with
Allison Hayes
and Peter Breck). In addition, he made other drive-in films such as
Thunder in Carolina
(1960; with
Rory Calhoun
) and starred in several TV series in the 1950s.

Visit the
Barbara Hale
page.
Huntz Hall (1919-1999)

Although Huntz Hall made more than 80 Bowery Boys and East Side Kids films, his real life was little like the characters of Sach and Glimpy that he portrayed in films. Hall practically grew up in the theater and was classically trained. He got his first big break when he was discovered by Broadway actor Martin Gabel (the second husband of game show queen Arlene Francis) in the mid 1930s. But when the Bowery Boys series of films ended in 1958, Hall began running afoul of the law. He was arrested several times for brawling, drunk driving, and marijuana possession. He took up acting, on an occasional basis, again in the mid 1960s, and even did a stint in a stage show as a transvestite, which was highly successful. Hall managed his money very well and became wealthy from his investments. Sadly, Hall passed away in January 1999 at the age of 79. The above photo is from the 1955 film
Dig That Uranium
.
Valda Hansen (1932-1993)
An attractive starlet with several film credits, Hansen appears in
Ed Wood's
Night of the Ghouls
(1958; released in 1988) as well as a few other films, mostly released in the 1970s. Hansen passed away from cancer at the age of 60.

Visit the
Ty Hardin
page.

Visit the
Mickey Hargitay
page.
Visit the
Brad Harris
page.
Visit the
Herk Harvey
page.
Rondo Hatton (1894-1946)

Rondo Hatton spent his formative years in Tampa, Florida. Upon graduating from high school, Hatton entered the military and eventually fought in World War I. He was gassed in 1917 and was given a medical discharge. His health ravaged, Hatton returned to Tampa and found work as a newspaper reporter. Tragically, the poison gas triggered a pituitary gland disease termed "acromegaly," which began to horribly disfigure Hatton. He was spotted for films in the mid 1930s, and soon Hatton and his wife left for Hollywood. By the early 1940s, Hatton was finding regular work in Universal horror films such as
The Spider Woman Strikes Back
and
The Pearl of Death
. But Hatton's disease was also progessing, and he passed away in early 1946 at the age of 51.

Visit the
Sterling Hayden
page.

Visit the
Allison Hayes
page.

Visit the
John Hodiak
page.

Visit the
Tim Holt
page.

Visit the
William Hopper
page.

Visit the
John Howard
page.

Visit the
Rock Hudson
page.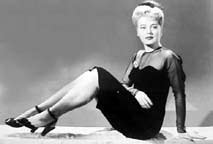 Visit the
Mary Beth Hughes
page.

Visit the
Jeffrey Hunter
page.

Visit the
Tab Hunter
page.

Visit the
Martha Hyer
page.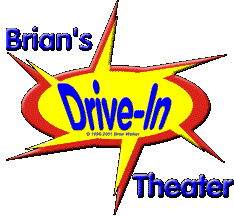 Click on the logo to go back to Brian's Drive-In Theater
This page premiered October 5, 2000.
Copyright and Disclaimer Information