Visit the
Jack Palance
page.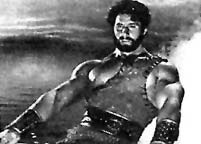 Visit the
Reg Park
page.
Suzy Parker (1932-2003)

New York-born Suzy Parker became fashion's first supermodel in the early 1950s, and she parlayed her fame into a somewhat brief film career in the late 1950s and early 1960s. Parker acted in such films as
Kiss Them For Me
(1957; with
Jayne Mansfield
),
A Circle of Deception
(1960; with
Bradford Dillman
), and
Chamber of Horrors
(1966; with
Marie Windsor
). Parker put the brakes on her career when she married third husband
Bradford Dillman
in 1963 and, by 1970, Parker had retired from acting. She passed away in May 2003 at the age of 70.
Julie Parrish (1940-2003)

Born in Kentucky in 1940, beautiful Julie Parrish acted in several films and numerous television program during her career which spanned the early 1960s through the late 1990s. After a few years in small parts, Parrish landed plum roles in
Winter A-Go-Go
(1965; with James Stacy and Nancy Czar),
Paradise, Hawaiian Style
(1966; with Elvis Presley), and
Fireball 500
(1966; with
Annette Funicello
,
Frankie Avalon
, and
Fabian
). Marriage interrupted Parrish's promising career, but she revitalized her resume with quite a bit of TV work in the 1970s and 1980s. A couple of bouts with cancer did her health and career no favors. Sadly, Julie Parrish passed away on October 1, 2003, at the age of 62.
Helen Parrish (1924-1959)

Born in Georgia, Helen Parrish grew up in Hollywood. At the age of three she made her first film appearance in
Babe Comes Home
(1927). Throughout the early to mid 1930s, Parrish appeared in films, often as an extra but by 1938, she was finding plum roles in films such as
Mad About Music
. He career was strong through the early 1940s, but Parrish married in 1942 and put the brakes on her career, appearing only occasionally in film roles and on early television. She and her husband parted ways in 1954, and afterward Parrish began working in television on a steady basis. In 1956, she married game show producer John Guedel. But their happiness was to be short-lived, as Parrish died of cancer at the age of 34 in early 1959.

Visit the
Lee Patterson
page.

Visit the
John Payne
page.
Barbara Payton (1927-1967)

Payton, a beautiful actress under contract to Universal in the early 1950s, made only a dozen films or so, such as
Bride of the Gorilla
(1951; with
Raymond Burr
). Her scandalous private life often overshadowed her film career. She was married to actor Franchot Tone for about a month, and then divorced him in favor of a relationship with actor
Tom Neal
, but that union lasted just a few months. The scandal wiped out her career and Neal's. Sadly, Payton died of natural causes on May 8, 1967, at the age of 39.

Visit the
Donald Pleasence
page.

Visit the
Mala Powers
page.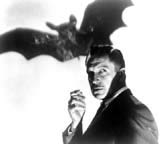 Visit the
Vincent Price
page.
Vera Ralston (1921-2003)

Czech-born beauty Vera (Hruba) Ralston gained fame as an ice skater in the late 1930s. In the early 1940s, Republic Pictures head Herbert Yates signed Ralston, in the hopes that she would become the next Sonja Henie. Ralston would stay at Republic until the studio folded in 1958. Some of her films include
The Lady and the Monster
(1944),
Lake Placid Serenade
(1944), and
The Man Who Died Twice
(1958). Ralston married Yates in 1952, and they remained a couple until his death in 1966. Ralston retired following the demise of Republic Pictures. She passed away on February 9, 2003 from cancer at the age of 81.
Thalmus Rasulala (1939-1991)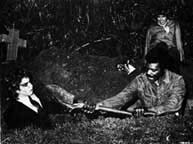 Thalmus Rasulala was a fixture in blacksploitation films, including
Blacula
(1972; with Denise Nichols) and
Bucktown
(1975; with
Pam Grier
). Rasulala often portrayed cops or at least a good guy who was concerned with correcting a societal evil, sort of a male version of
Pam Grier
. He worked in films and television until his death from a heart attack at the age of 52. The above photo is from
Blacula
.

Visit the
Basil Rathbone
page.

Visit the
Aldo Ray
page.

Visit the
Paula Raymond
page.

Visit the
Rex Reason
page.
Donna Reed (1921-1986)

While everyone remembers Donna Reed from her 1958-1966 series
The Donna Reed Show
, Reed made a number of A and B films in the 1940s and 1950s, such as
Scandal Sheet
(1952; with
John Derek
) and
Backlash
(1956; with Richard Widmark). Perhaps her greatest achievement was winning a Best Supporting Actress Oscar for her role in
From Here to Eternity
(1953). Her film career ebbed with the beginning of her TV series, and by the time the series was cancelled in 1966, her career was finished. After one last stint on TV, as Barbara Bel Geddes' replacement on
Dallas
during the 1984-1985 season, Reed passed away from pancreatic cancer at the age of 64.

Born Pearl Elizabeth Dobbins, knockout Liz Renay's personal life often overshadowed her film career. She became a showgirl and, later, a stripper after running away from home in the 1940s. In the 1950s, Renay made an effort toward acting and landed a starring role in
Date with Death
(1959; with
Gerald Mohr
and Robert Clarke) and was considered for other big roles. But when she was sentenced to three years in Terminal Island Prison after refusing to fink on her lover, mobster Mickey Cohen, her hopes for screen stardom vanished. However, after her release from prision, Renay published her famous autobiography
My Face for the World to See
(1971) and found work as an actress in low-budget films. Some of her work includes
The Thrill Killers
(1964; with Ray Dennis Steckler),
The Nasty Rabbit
(1965; with
Arch Hall Jr.
), and John Waters'
Desperate Living
(1977; with Mink Stole and Edith Massey). Renay's last film was Ted V. Mikels'
Mark of the Astro-Zombies
(2002; with Tura Satana). The above photo is from
The Thrill Killers
with Cash Flagg (aka Ray Dennis Steckler).
Michael Rennie (1909-1971)

Erudite Michael Rennie desperately wanted to escape the boredom of working for his family's wool export enterprise and turned to acting. Although he had no experience or training as an actor, he perservered, getting small roles in several British-made films in the late 1930s. With the outbreak of World War II, Rennie joined the RAF; after the war's end, he returned to acting, appearing in better films and doing early television. By chance, he landed a contract with 20th Century-Fox in 1949 and left Britian for the U.S. One of his earlier films for the studio was his best, the 1951 release
The Day the Earth Stood Still
(see the left-hand photo). But when Rennie's contract with Fox lapsed in the late 1950s, roles began to dry up. He did a TV series for the BBC entitled
The Third Man
(1959) but worked little in films until the mid 1960s. In the late 1960s, Rennie found work in Italy doing a string of films, but after years of smoking heavily, his declining health called a halt to his career in 1970. He passed away the following year at the age of 61.

Visit the
George Reeves
page.
Visit the
Steve Reeves
page.

Los Angeles-born Candice Rialson acted in a number of films in the 1970s, most often for Roger Corman's New World Pictures. With starring roles in such classic B films as
Candy Stripe Nurses
(1974; with Robin Mattson),
Hollywood Boulevard
(1976; with Mary Woronov and Paul Bartel), and the hilarious
Chatterbox
(1977; with Rip Taylor and Larry Gelman), Rialson attained a cult status early in her career. She also took small roles in A pictures such as
The Eiger Sanction
(1975; with Clint Eastwood and Jack Cassidy) and
Logan's Run
(1976; with Michael York) in between television work on the series
Fantasy Island
and
Maude
, among others. In the late 1970s, Rialson called it a day and retired from acting to raise a family. Sadly, she passed away in March 2006 from a liver ailment.

Visit the
Kane Richmond
page.
Adam Roarke (1937-1996)

Born in New York in 1937, Adam Roarke starred in numerous biker films and other low-budget movies in the 1960s and 1970s, such as
Hells Angels on Wheels
(1967; with Jack Nicholson),
Psych-Out
(1968; with Bruce Dern),
The Savage Seven
(1968; with Robert Walker Jr.),
Frogs
(1972; with
Ray Milland
and Lynn Borden), and
Dirty Mary, Crazy Larry
(1974; with Peter Fonda). Roarke died in Dallas, Texas, of a heart attack at age 58. The above photo is from Roarke's 1968 film
Hell's Belles
; to his right is Dick Bullock.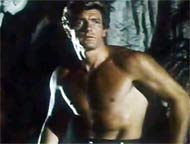 Visit the
Joe Robinson
page.

Visit the
Jean Rogers
page.
Kasey Rogers (1925-2006)

Pretty Kasey Rogers was put under contract by Paramount in the late 1940s. Renaming her Laura Elliott, the studio cast her in a number of film noir thrillers, including
Special Agent
(1949; with
George Reeves
) and
Paid in Full
(1950; with
Lizabeth Scott
and
Eve Arden
), and one of her meatiest roles came when she was loaned out to do Alfred Hitchcock's
Strangers on a Train
(1951; with Robert Walker) in which she portrayed Farley Granger's doomed estranged wife. Yet her career did not flourish at Paramount, and Rogers left the studio in 1954. She changed her professional name back to Kasey Rogers in the mid 1950s when she began working in television. Rogers spent many years doing guest spots until the mid 1960s, when she secured a role as the mother of Barbara Parkins on ABC's
Peyton Place
in 1964. In 1966, she took over the role of Louise Tate on the ABC-TV series
Bewitched
. Soon after the series left the air in 1972, Rogers retired from the screen. She passed away in July 2006 after several bouts with cancer and a stroke. She is survived by her two sons, two daughters, and several grandchildren and great-grandchildren. The above photo is from a 1957 episode of
The Millionaire
.
Roy Rogers (1911-1998)

Born in Leonard Slye in Ohio in 1911, Roy Rogers made his way to California during the early part of the Depression. He initially found a job as a migrant farm worker, but Rogers' musical talent soon led him out of the fields and into radio, where his group The Sons of the Pioneers met with great success. Rogers and the Sons were cast in musical roles in films in the mid 1930s, and by 1936 were appearing in Gene Autry's western vehicles. Rogers proved to be a popular presence in these films, so in 1938, when Autry temporarily left Republic in a salary dispute, the studio starred Roy Rogers in his own series of westerns. Rogers was a popular singer and actor throughout the 1940s, and his 1947 marriage to Dale Evans made the couple a favorite in the U.S. In the 1950s, Rogers and Evans starred in the TV series
The Roy Rogers Show
and made many personal appearances across the nation. After the series left the air in 1957, Rogers cooled his acting career to focus on his growing chain of Roy Rogers fast food restaurants, as well as other business endeavors. Rogers passed away in 1998 at the age of 86.

Visit the
Ruth Roman
page.

Visit the
Jane Russell
page.

Visit the
John Russell
page.
Irene Ryan (1902-1973)

Before starring as Granny Clampett on the 1962-1971 CBS TV series
The Beverly Hillbillies
, Irene Ryan appeared in dozens of B films in the 1940s and 1950s; prior to her screen career, Ryan did vaudeville with her first husband, actor Tim Ryan, and she also was a familiar radio personality in the 1930s and 1940s. After divorcing Tim Ryan, she married producer-director Harold Knox, but that union ended in 1961. After the cancellation of
The Beverly Hillbillies
, Ryan began acting in the theatre. A heavy smoker, Ryan's habit took its toll on her health, and she died at the age of 70 from multiple causes. The above photo is from
Bonzo Goes to College
(1952).
Robert Ryan (1909-1973)

Robert Ryan was a boxer before becoming interested in acting. He often served as the heavy in such films as
Act of Violence
(1948; with Van Heflin),
Beware, My Lovely
(1952; with Ida Lupino), and
Bad Day at Bad Rock
(1955; with Spencer Tracy and
Anne Francis
). Ryan worked steadily in films until his death from cancer in 1973 at the age of 63. The above photo is from
The Set-Up
(1949; with Audrey Totter).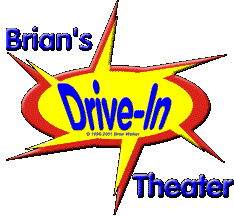 Click on the logo to go back to Brian's Drive-In Theater
This page premiered September 10, 2001.
Copyright and Disclaimer Information