Visit the
Guy Madison
pages.

Visit the
Jock Mahoney
page.

Visit the
Marjorie Main
page.

Visit the
Dorothy Malone
page.
Dudley Manlove (1914-1996)
A former NBC radio announcer and commercial pitchman, Manlove attempted but failed to break into movies, appearing in only four. His best known role was as an alien in
Ed Wood's Plan Nine from Outer Space
(1959; with
Tor Johnson
).

Visit the
David Manners
page.

Visit the Jayne Mansfield page, with more than 40 photos.
Hugh Marlowe (1911-1982)

Hugh Marlowe starred in a vast number of science fiction cult classics in the 1950s, including
The Day the Earth Stood Still
(1951) and
Earth Vs. the Flying Saucers
(1956). In the late 1960s, he took on a role on the daytime soap
Another World
and stayed with the show until his sudden death in 1982 at the age of 71.
Joan Marshall (1931-1992)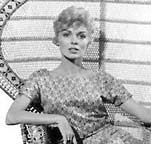 Gorgeous Joan Marshall made her biggest splash in films as, incredibly, a man when she starred in
William Castle's
1961 shocker
Homicidal
in the dual role of Emily and Warren. Castle billed her as "Jean Arless" in this film, but in the remainder of her film and television appearances, she used her real name. Marshall's career was busiest in the late 1950s and early 1960s, when she took on many film and television parts and had a recurring role as Sailor Duval on the 1959-1960 TV series
Bold Venture
. Into the 1970s, Marshall married director Hal Ashby and retired from the screen. Ashby took bits and pieces of Marshall's past life and turned them into the 1975 film
Shampoo
, in which Marshall makes a brief appearance. She passed away in 1992 at the age of 61.
William Marshall (1924-2003)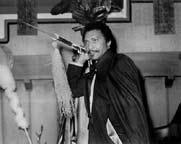 Classically trained character player William Marshall was a prominent stage actor who occasionally found work in films. He landed just a few starring roles during his lengthy career; his best known films were the blacksploitation efforts
Blacula
(1972; with Vonetta McGee) and
Scream, Blacula, Scream
(1973; with
Pam Grier
) in which Marshall portrayed the title character. In the 1980s, he could be seen as the 'King of Cartoons' on the CBS Saturday morning children's program
Pee-wee's Playhouse
. Marshall retired from acting in the 1990s and passed away in June 2003 at the age of 78.

Visit the
Kerwin Mathews
page.
Victor Mature (1913-1999)

Rugged leading man Victor Mature starred in numerous costume dramas in the 1940s and 1950s, including
Samson and Delilah
(1949),
Demetrius and the Gladiators
(1954), and
The Robe
(1953). But into the later 1950s, he was acting in smaller-budgeted films, such as
Pickup Alley
(1957) and
Timbuktu
(1959). After 1960, Mature went into semi-retirement, preferring playing golf to making films. Mature passed away in August 1999 at the age of 86.

Visit the
Lois Maxwell
page.

Visit the
Virginia Mayo
page.
Irish McCalla (1929-2002)

Knockout Irish McCalla wowed TV audiences in the 1950s with her series
Sheena: Queen of the Jungle
. By the early 1960s, McCalla walked away from acting to become an artist, at which she became very successful. In 1969, doctors discovered a brain tumor; McCalla fought back and regained her health. Years later, in the early 1980s, she suffered through another tumor. McCalla passed away at the age of 72 in February 2002 from brain tumor and stroke complications.

Visit the
Kevin McCarthy
page.

Visit the
Doug McClure
page.
Tim McCoy (1891-1978)
Western star Tim McCoy didn't enter films until the waning days of the silents. When sound films came in, McCoy became famous in a series of westerns produced by MGM. By the time that World War II broke out, McCoy was putting the wraps on his career. Having been in the Army years before, McCoy went back into the Army for the duration of the war. Well into his 50's at this point, McCoy mostly retired, doing just a few films and a short-lived television series. McCoy lived out the remainder of his life in comfort, passing away in 1978 at the age of 86.
Visit the
Jody McCrea
page.

Visit the
Joel McCrea
page.
Dorothy McGuire (1918-2001)

Pretty Dorothy McGuire was a stage actress before making the move to the big screen in the early 1940s with the film
Claudia
(1943). More good roles followed in such films as
Till the End of Time
(1946; with
Guy Madison
),
Gentleman's Agreement
(1947), and
Friendly Persuasion
(1956). Her career was often marked by large gaps of time between films, and by the 1960s her film career was comprised mostly of Disney films and B movies (such as
Susan Slade
, 1961). In the 1970s and 1980s, she did quite a bit of television, finally retiring in 1990. McGuire passed away in September 2001 at the age of 83.
Gardner McKay (1932-2001)

Best known as Captain Adam Troy on the 1959-1962 TV series
Adventures in Paradise
, Gardner McKay left acting as quickly as he got into it. After
Paradise
left the air, McKay walked away from his career and became a writer. He acted in only a few films, including
The Pleasure Seekers
(1964); his final acting job came in the 1968 release
I Sailed to Tahiti with an All Girl Crew
. McKay passed away at age 69 in November 2001 from cancer.

Visit the
Wanda McKay
page.

Visit the
Ralph Meeker
page.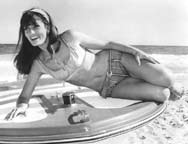 Visit the
Marisa Mell
page.
Russ Meyer (1922-2004)
A California native, famed exploitation director Russ Meyer got his start in the film business making training films for the Army during World War II and later graduated to making industrial films and indulging in still photography, taking many pin-up pictures in the 1950s and selling them to magazines. Meyer's first film for release was the 1959 release
The Immoral Mr. Teas
. With the success of his first sexploitation film, Meyer cranked them out in the 1960s. His best films are
Faster, Pussycat! Kill! Kill!
(1965; with Tura Satana and Haji),
Motor Psycho
(1965; with Haji and Coleman Francis), and
Beyond the Valley of the Dolls
(1970; with Edy Williams). Meyer's soft-core films went out of vogue in the early 1970s, and by the end of the decade, Meyer retired to count the proceeds from his films. Sadly, the sexploitation pioneer passed away on September 19, 2004, at the age of 82. Married several times, Meyer's most famous wife was actress Edy Williams. He also had a long-term relationship with actress Kitten Natividad.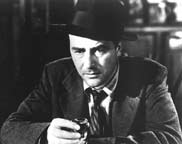 Visit the
Ray Milland
page.
Ann Miller (1923-2004)

Texas-born beauty Ann Miller started in films as a child dancer and singer. Working in films from the mid 1930s through the mid 1950s, Miller signed her first movie contract, with RKO, while still a teenager. In the 1940s she left RKO for Columbia but never got a breakthrough role. After more than ten years of toiling on soundstages, her big break came when MGM signed her to a lengthy contract. However, Miller was only allowed to play second leads, and when her contract lapsed in 1956, she took her act to Las Vegas and later Broadway. Miller made a comeback in the 1970s with television appearances, commercials, and her Broadway smash
Sugar Babies
. After 45 years away from the big screen, Miller made one final film appearance, in David Lynch's
Mulholland Drive
. Sadly, Miller passed away after a bout with lung cancer in January 2004 at the age of 80.

Visit the
Denny Miller
page.
Andy Milligan (1929-1991)
Those people who claim that
Ed Wood
was the world's worst film director have likely never seen an Andy Milligan film. But much like Wood's movies, for die-hard horror fans Milligan's are great fun to watch. Born in Minnesota in 1929, Milligan's home life was as horrific as his films. He fled Minnesota in the 1940s and eventually wound up in New York. Handsome enough to be a leading man, Milligan found work as an actor in early television shows, such as NBC's
Armstrong Circle Theatre
, on which he appeared several times. However, his private life began to overshadow his acting career, which fizzled by the mid 1950s. He then turned to dressmaking and clothing design, while also working in underground theatre. After a few years of cultivating friends and contacts, Milligan made his first film in 1963, the fascinating short
Vapors
that was shot in a gay bathhouse in New York. Soon Milligan was directing sexploitation flicks but quickly switched to horror films by the late 1960s. My personal favorites include
The Body Beneath
(1970; with Gavin Reed) and
The Ghastly Ones
(1968; with Hal Borske). While most of Milligan's films fall under the heading of 'so-bad-they're-good' mostly due to to their miniscule budgets (usually under $10,000),
The Body Beneath
is reasonably well acted, genuinely creepy, and highly effective. When exploitation films petered out in the 1970s, Milligan's directoral career faded. Sadly, he passed away from complications due to the AIDS virus in 1991 at the age of 62.

Visit the
Martin Milner
page.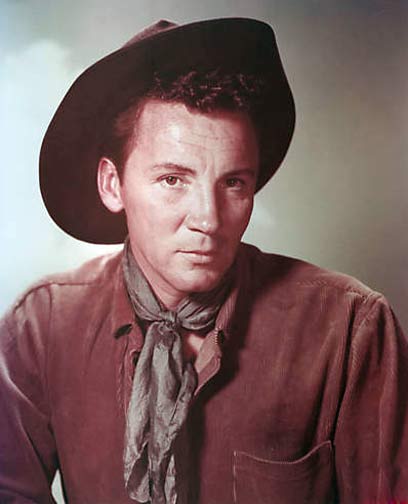 Visit the
Cameron Mitchell
page.
Visit the
Gordon Mitchell
page.

Visit the
Gerald Mohr
page.

Visit the
Ricardo Montalban
page.
Visit the
Maria Montez
page.

Visit the
George Montgomery
page.
Alvy Moore (1921-1997)

Although everyone recognizes Alvy Moore as the character of Hank Kimball from TV's first surreal sit-com,
Green Acres
, Moore broke into film in the early 1950s with small roles in such films as
Gentlemen Prefer Blondes
(1953) and
There's No Business Like Show Business
(1954). He found larger roles in B pictures, including
5 Against the House
(1955; with
Guy Madison
and
Kerwin Mathews
) and
Twist Around the Clock
(1961; with Chubby Checker). In the 1960s, he was appeared in the low-budget release
Three Nuts in Search of a Bolt
(1964; with
Mamie Van Doren
and Tommy Noonan). During his tenure on
Green Acres
(1965-1971), Moore began producing low-budget drive-in movies with fellow actor L.Q. Jones; the pair usually acted in the movies as well, including
The Witchmaker
(1969; with
Anthony Eisley
) and
Brotherhood of Satan
(1971; with Strother Martin). After several more films and dozens of TV appearances, Moore retired in the late 1980s. He passed away at age 75 from heart failure. The above photo is from
A Boy and His Dog
(1975).

Chicago-born Clayton Moore entered films in the late 1930s as a bit player but moved up the food chain in the early 1940s to supporing roles in westerns and serials. Military service during World War II interrupted his career. After the war, he went back to work in such films as
Jesse James Rides Again
(1947; with Linda Stirling),
Sheriff of Wichita
(1949; with
Allan 'Rocky' Lane
), and
Bandits of El Dorado
(1949; with Charles Starrett). In 1949, Moore was cast as the title character in the television series
The Lone Ranger
(1949-1957), the role for which he's best known today. The role typecast Moore, yet the actor didn't seem to mind. Sadly, he passed away in December 1999 at the age of 85.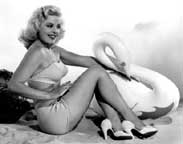 Visit the
Cleo Moore
page.

Born in Iowa in January 1920, Moore grew up in Texas and studied to be a singer. She began singing on the radio in the mid 1930s and was soon offered a contract by Universal Studios in 1937. Moore headed for Hollywood and was soon appearing in a number of Universal's 'B' features, including
The Missing Guest
(1938; with Paul Kelly and William Lundigan),
Buck Rogers
(1939; with
Buster Crabbe
, and
You Can't Cheat an Honest Man
(1939; with W.C. Fields and Edgar Bergen). At the age of 19, Moore married a talent agent, and the following year she left Universal for greener pastures at Paramount. But after lensing the comedy
Take a Letter, Darling
(1942; with Rosalind Russell and Fred MacMurray), Moore left Paramount and took a break from acting for a couple of years to try her luck on Broadway. Now freelancing, she returned to the screen in the musicals
Show Business
(1944; with Eddie Cantor and
Joan Davis
) and
Delightfully Dangerous
(1945; with Jane Powell and Ralph Bellamy), among other films, but quit films again after the release of
Hit Parade of 1947
(1947; with Eddie Albert). Afterward, Moore raised a family and put her career on the back burner. She went back to work in the early 1960s on the TV series
Window on Main Street
(1961-1962) and
The Young Marrieds
(1964-1966) before calling it a day. Sadly, Moore passed away in September 2005 at the age of 85. She is survived by a son and daughter and grandchildren. The photo above is from Moore's 1945 film
Delightfully Dangerous
.
Duke Moore (1913-1976)
James 'Duke' Moore worked exclusively in
Ed Wood's
films. Moore appeared in several of Wood's productions, including
Plan Nine from Outer Space
(1959) and
Night of the Ghouls
(1959). He succombed to a heart attack at age 63.
Joanna Moore (1934-1997)

Beautiful Joanna Moore acted in several B movies from the late 1950s through the late 1960s, including
Monster on the Campus
(1958; with
Troy Donahue
) and
Follow That Dream
(1962; with Elvis Presley). She had more success on television, where she made more than 70 appearances on popular TV series from the 1950s through the 1970s. Moore was actor Ryan O'Neal's first wife and the mother of Tatum O'Neal and Griffin O'Neal. Sadly, she passed away at the age of 63 from lung cancer. The above photo is from
Appointment with a Shadow
(1958; with
George Nader
).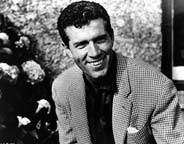 Visit the
Kieron Moore
page.
Agnes Moorehead (1900-1974)

Although Agnes Moorehead is most commonly associated with the role of Endora on ABC-TV's
Bewitched
, she had a long and distinguished career as an actress. Before becoming an actress, Moorehead was a schoolteacher in Wisconsin who taught drama and speech. In the 1930s, she left teaching behind and went into radio as a dramatic actress, eventually working for Orson Welles'
Mercury Theater
. When Welles went to Hollywood to film
Citizen Kane
(1941), Moorehead followed along for a role in the film, her first. This began her lengthy film career; her most active period came in the 1950s, when she acted in more than 30 A and B films including
Magnificent Obsession
(1954),
The Conqueror
(1956), and
Night of the Quarter Moon
(1959; with
Julie London
). After signing on as a
Bewitched
cast member, Moorehead did few films. Her last movie was the low-budget axe-murder horror flick
Dear Dead Delilah
(1972; with Dennis Patrick). Moorehead died in 1974 from cancer at the age of 73.
Chester Morris (1901-1970)

Best known for his "Boston Blackie" series of films, Chester Morris started his career during the days of silent films, having been successful beforehand on the stage. He appeared in dozens of films during the 1920s and 1930s, but he was most successful in the 1940s, thanks to the "Boston Blackie" series of films, released by Paramount. However, when the series wore out its franchise in the late 1940s, Morris found himself typecast. He made few films afterward, retreating to the stage. Sadly, Morris committed suicide in 1970 at the age of 69.

Visit the
Glenn Morris
page.
Wayne Morris (1914-1959)

California-born Wayne Morris took up acting in college and honed his craft at the famed Pasadena Playhouse, where he was spotted by a talent agent from Warner Bros. The studio quickly signed him to a contract, and after just a year of supporting roles Morris landed the title role in
Kid Galahad
(1937; with Bette Davis). Morris went on to headline many of Warner's B movies, including
The Kid from Kokomo
(1939) and
The Return of Doctor X
(1939). With the onset of World War II, Morris joined the Navy as a pilot, making no more films until
Deep Valley
(1947). Six years of screen absence did Morris's career no favors; when Warner Bros. let his contract expire in the late 1940s, Morris wound up doing westerns and action pictures at lesser studios, including Monogram and Republic. With his film career winding down in the late 1950s, Morris transitioned to television, making guest appearances on a number of series. He died suddenly of a heart attack in September 1959 at the age of 45. The photo above is from
Kid Galahad
.

Visit the
Jeff Morrow
page.

Visit the
Janet Munro
page.
Visit the
George Nader
page.

Visit the
Tom Neal
page.

Visit the
Lori Nelson
page.

Visit the
Alex Nicol
page.

Visit the
Barbara Nichols
page.
Tommy Noonan (1922-1968)

The younger half-brother of actor John Ireland, Tommy Noonan acted in a number of 'A' and 'B' pictures from the 1940s through the 1960s. The brothers acted in three films together, including
I Shot Jesse James
(1949; with
Tom Tyler
), and Noonan did a great turn as Marilyn Monroe's boyfriend in
Gentlemen Prefer Blondes
(1953; with
Jane Russell
). He teamed with Peter Marshall to form a comedy team in the 1950s, but the duo went their separate ways in the early 1960s. Afterward, Noonan appeared in a few 'B' films, such as
Promises, Promises
(1963; with
Jayne Mansfield
); also he produced, directed, wrote, and starred in
Three Nuts in Search of a Bolt
(1964; with
Mamie Van Doren
). Not long after the release of
Cottonpickin' Chickenpickers
(1967; with Sonny Tufts), Noonan was diagnosed with a brain tumor. He died in April 1968, just a few days shy of his 46th birthday.
Maila Nurmi, aka Vampira (1921-2008)

Maila Nurmi, better known as Vampira, was born in Finland and emigrated to the U.S. in the 1920s with her family. Beginning her entertainment career as a chorus girl, she first gained prominence in Mae West's stage play
Catherine was Great
in the 1940s but was fired when Nurmi garnered very favorable reviews, upstaging West. In 1954, a chance costume contest found Nurmi made up much like Morticia Addams from Charles Addams' cartoon strip; she was then offered a horror hostess job at KABC Channel 7 in Los Angeles for which she created the character Vampira by borrowing bits and pieces from Charles Addam's cartoon strip. In 1955, Nurmi caused quite a public stir after meeting James Dean, attempting but failing to strike up a relationship. Sadly, she was blacklisted and fired by KABC in 1956. She agreed to appear in
Ed Wood's
Plan Nine from Outer Space
(1959; with
Tor Johnson
) as the ghoul's wife, for a sum of $200. In addition, she made a few other films before qutting acting, including the campy
Sex Kittens Go to College
(1960; with
Mamie Van Doren
). Nurmi was once married to screenwriter Dean Reisner and later married actor Fabrizio Mioni in the early 1960s. After her career dried up, Nurmi turned her attentions to art and jewlery making. After Wood's films became a cult sensation in the 1980s, Nurmi became a frequent interview subject. Sadly, she passed away at age 86 in January 2008.

Visit the
Hugh O'Brian
page.

Visit the
George O'Brien
page.

Visit the
Quinn O'Hara
page.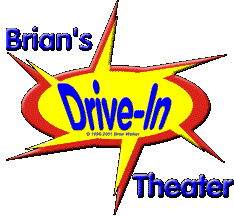 Click on the logo to go back to Brian's Drive-In Theater
This page premiered August 7, 2001.
Copyright and Disclaimer Information